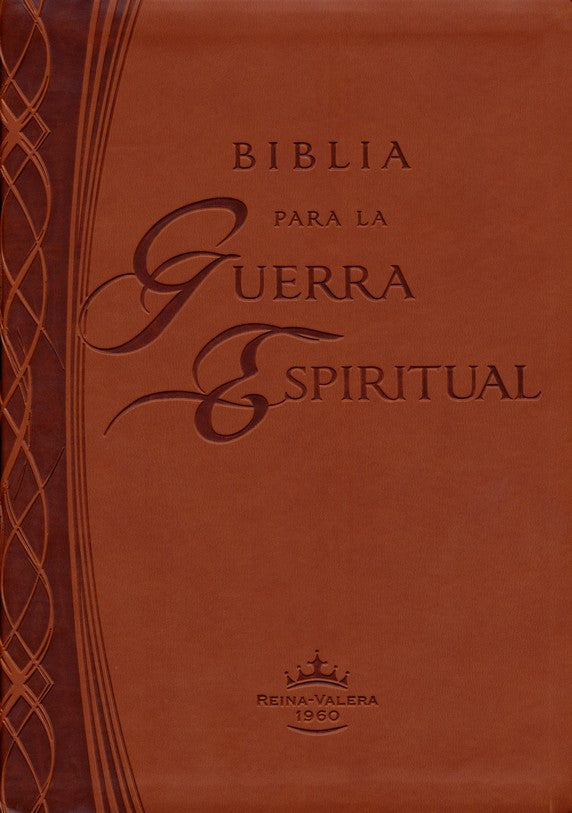 Casa Creacion
Biblia para la Guerra Espiritual RVR 1960, Piel Imit. Marró (RVR 1960 Spiritual Warfare Bible, Imit. Leather, Brown)
---
Diseñada para ayudarle a entender cómo utilizar el poder del Espíritu Santo, esta Biblia RVR 1960 le ayudará a participar en una guerra espiritual contra fuerzas y actividades demoníacas a fin de experimentar un cambio positivo en su vida y circunstancias. La Biblia para la Guerra Espiritual incluye seis herramientas específicas que pueden utilizarse, incluyendo lo siguiente:
Declaraciones para la Guerra Espiritual – más de 300 declaraciones, basadas en las Escrituras u oraciones que afirman su determinación para confrontar a Satanás en medio de la guerra espiritual.
Principios Básicos para la Guerra Espiritual – 67 consejos prácticos para hacer guerra espiritual
Lecciones del Perfil de Algunos Guerreros de Dios – 21 perfiles de personajes del antiguo y nueva testamento los cuales fueron equipados y ungidos por el Espíritu Santo para enfrentar al enemigo en guerra espiritual.
Oraciones para la Guerra Espiritual – 34 oraciones basadas en las Escrituras sobre temas específicos para la guerra espiritual las cuales pueden ser utilzadas por el lector cuando enfrente batallas espirituales similares o bien puede utilizarlas para comenzar una discusión en un grupo pequeño al orar e interceder por la guerra espiritual.
Elementos de Estudio para Afilar Su Espada – Estudios interactivos para la reflexión profunda sobre lo que dice la Palabra de Dios sobre la guerra espiritual.
Artículos para Prepararse para la Guerra Espiritual – Cada libro de la Biblia contiene un artículo con enseñanzas más profundas y completas acerca de algún elemento específico sobre la guerra espiritual relacionado a la enseñanza de ese libro.
Designed to help you understand how to utilize the power of the Holy Spirit, this RVR 1960 Bible will help you engage in spiritual warfare against demonic strongholds and activity in order to experience positive change in your life and circumstances. The Spiritual Warfare Bible includes six specific tools that can be used, including the following:
Spiritual Warfare Declarations—More than 300 one-sentence, Scripture-based declarations or prayers that affirm your determination to confront Satan in spiritual warfare.
Spiritual Warfare Basics—67 short, succinct tips for doing spiritual warfare.
Lessons From God's Warriors Profiles—21 character profiles of Old and New Testament people who were equipped and anointed by the Holy Spirit for engaging the enemy in spiritual warfare.
Spiritual Warfare Prayers—34 Scripture-based prayers on specific spiritual warfare topics that may be used when facing similar spiritual battles or used as small group discussion starters for discussions on prayer and intercession for spiritual warfare.
Using Your Sword Interactive Study Elements—Interspersed throughout the Bible are 23 interactive studies for deeper reflection and study on what the Word of God says about important spiritual warfare challenges.
Preparing for Spiritual Warfare Articles—Each book of the Bible contains an article with deeper, more complete teaching about a specific element of spiritual warfare related to the teaching in that book.
---
Share this Product
---
More from this collection